WE CUSTOM BUILD THE FINEST BALERS IN THE WORLD
---
The McDonald Services family of horizontal extrusion balers vary in size from the thirty by thirty inch feed model to the sixty by forty six inch feed model. Of the forty different models offered, the "thirty-thirty" and the "sixty forty-three" models are the most popular.

The smaller 30" by 30" extrusion balers are popular with customers who are working with hard to bale materials. The width to height bale dimension reversal (30 " wide by 40" high) improves bailing efficiency and handling of hard to bale materials.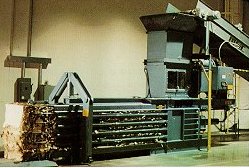 The ability to handle large pieces of waste plus high volume production are two reasons why customers choose our 60 " x 43 " model extrusion balers. Their size makes these balers ideal for commercial recyclers, municipal land fill operators, and waste haulers.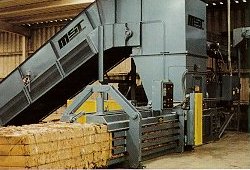 MSI Open-End Baler Specifications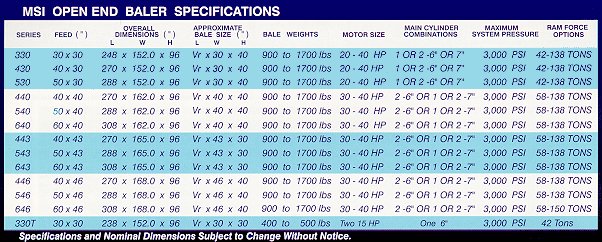 STANDARD FEATURES

Automatic Operation Cycle
Automatic Bale Sizing
Modular Hydraulic Power Packs
Flange Mounted Cylinders
Shear Knife Assembly
Hold Downs Can be Adjusted and Shimmed from Outside
Replaceable T-1 Liners on Floor & Platen
Compression Platen Guiding System
Material Retainer Dogs
TEFC Motors
Soft Shift Spool or DIN Cartridge Valves
Regenerative Circuit
Oil Temperature Indicator
High Temperature Shut Off
Low Oil Shut Off
Oil Reservoir Cleanout Door
NEMA 12 Console with Operator Key Switch
Programmable Controls
Solenoid Indicator Lights
Adjustable Limit Switches
Choice Right or Left Hand Operator Controls

ADDITIONAL COST OPTIONS

Thermostatically Controlled Oil Heater
Serrated Floor and Ram Bottom Liners for Non Ferrous
Hopper and Chute Extensions
SONAC Sensors
Upper Level Sensors
Conveyor Controls and Starters
Special Voltage or Starting Requirements
Bale RunOut Tables
Feed Chute Door
Windowed Feed Chute Door
Water Mist System
Telephone Modem
PLC Generated Diagnostics and Production Reporting
Touch Screen Operator Controls
Heated and Air Conditioned Operator Stations
Extended Platen Penetration
Three Position Feed Chamber
Remote Mounted Hydraulic Power Pack
Oil to Air Cooling
Four or Five Cycles per Minute Performance Option
Automatic Tier
Double Squeeze
Panel Mounted Electrical Disconnect
---
Please call us at 800.468.3454 for pricing information. Thank you for your interest.
Pre-conditioning equipment:
Visit our MSI Pierce & Rip Shredder Page!
Visit our MSI High Speed Shredder Page!
Visit our MSI Horizontal Flail Page!
---
© 1997 McDonald Services Incorporated. All Rights Reserved.