WE CUSTOM BUILD THE FINEST BALERS IN THE WORLD
---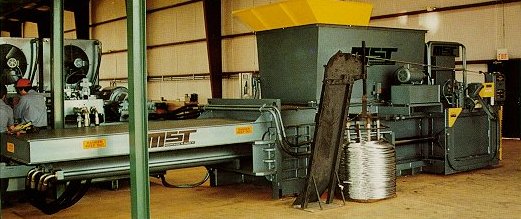 The McDonald Services family of two ram balers vary in size from the sixty by forty-two inch feed model to the one hundred twenty by fifty-six inch feed model. Of the seventeen different models offered, the "sixty by forty-two" and the "one hundred twenty by fifty-six" models are the most popular.

Our smaller 60" x 42" series balers are able to deliver very high ram face pressures allowing denser bales from many of the materials being baled by recyclers, municipal land fill operators, and waste haulers. Their smaller size allows them to be located in many retail distribution centers and manufacturing facilities.

The ability to handle large pieces of waste plus high volume production are two reasons why our 120" x 56" model balers are chosen. Their size alone makes these balers desired by commercial recyclers, municipal land fill operators, and waste haulers.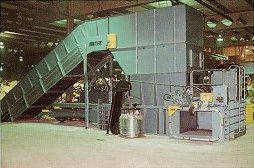 MSI Two Ram Baler Specifications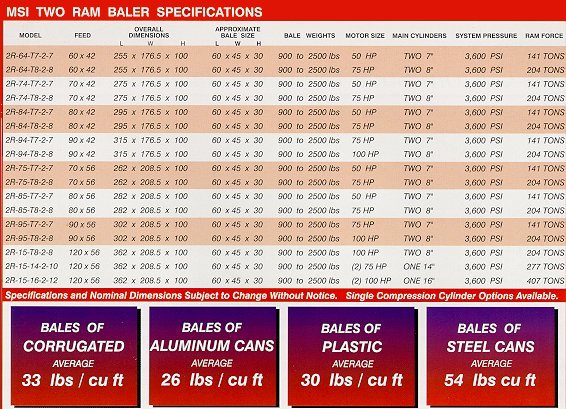 STANDARD FEATURES

Automatic Operation Cycle
Automatic Infeed Chamber Sizing
Automatic Tie Spacing and Placement
Modular Hydraulic Power Packs (Foundation for Upgrade)
Flange Mounted Cylinders
Three Piece Shear Knife Assembly with 4x Wear/Life Cycles
Hold Downs can be Adjusted and Shimmied from outside
Replaceable T-1 Liners on Floor & Platen
Compression Platen Guiding System
TEFC Motors
Soft Shift Spool or DIN Cartridge Valves
Extended Platen Penetration
Regenerative Circuit
Oil Temperature Indicator
High Temperature Shut Off
Low Oil Shut Off
Oil to Air Cooling
NEMA 12 Console with Operator Key Switch
Programmable Controls
Solenoid Indicator Lights
Adjustable Limit Switches
Choice of Right of Left Hand Bale Eject
Choice of Automatic Wire Tiers

ADDITIONAL COST OPTIONS

Thermostatically Controlled Oil Heater
Serrated Floor and Ram Bottom Liners for Non Ferrous
Hopper and Chute Extensions
SONAC Sensors
Upper Level Sensors
Conveyor Controls and Starters
Special Voltage or Starting Requirements
Bale Chamber Door
Bale Chamber Door - Variable Opening
Bale Run Out Tables
Feed Chute Door
Windowed Feed Chute Door
Water Mist System
Tamper
Telephone Modem
PLC Generated Diagnostics and Production Reporting
Heated and Air Conditioned Operator Stations
Extended Ejector can Completely Eject Bale
Main Plate can be Removed Through Ejector Opening (When required for maintenance)
Universal Right/Left Eject Nozzle
Four or Five Cycles per Minute Performance Option
Panel Mounted Electrical Disconnect
---
Please call us at 800.468.3454 for pricing information. Thank you for your interest.
---
© 1997 McDonald Services Incorporated. All Rights Reserved.